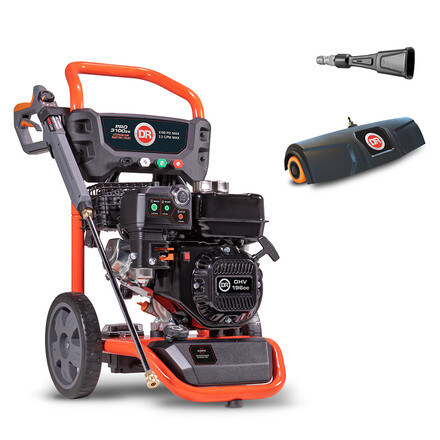 DR Pro 3100ES 3100PSI Electric Start Pressure Washer (DPW3111DEN)
DPW3111DEN
Product Details
Our DR PRO 3100ES offers the convenience of push button electric starting (powered by onboard Lithium-Ion battery). The PowerGun's task selection dial automatically chooses the right pressure for each task. Two free cleaning attachments included!
One-Touch Electric Starting
No More Hard Starts!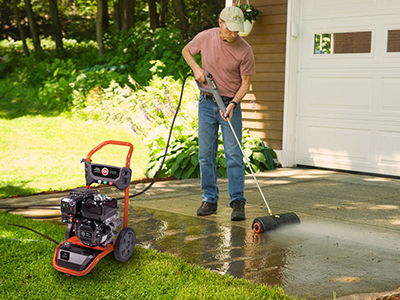 Since pressure washers are seasonal products in many areas, a common complaint is about hard starts after months of disuse.
Our DR PRO 3100ES makes that a thing of the past. With auto choke and a lithium-ion battery (charger included), one touch starting is here!
Pump connections are easy to access, a detergent tank is onboard, and with two cleaning attachments included, the PRO 3100ES is one of the easiest-to-use pieces of equipment you will ever own.
The PowerGun With Pressure Selection Dial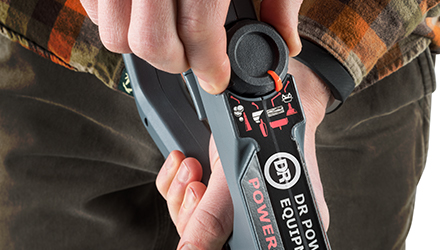 A common frustration with pressure washing is that you constantly need to stop and switch nozzles. Our Power Gun puts the ability to change settings, quickly and easily, right at your fingertips.
Warranty Coverage
Now with Two FREE Cleaning Attachments!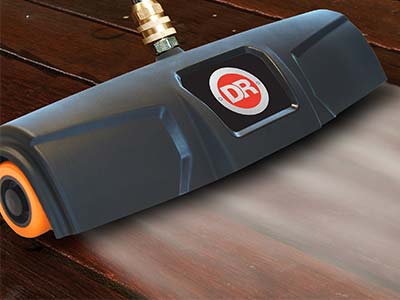 FREE 18" Power Broom (normally $69.99)
The easy on/off Power Broom has four nozzles that roll along at a constant height to make cleaning decks and other horizontal surfaces MUCH less fatiguing and up to 4X FASTER!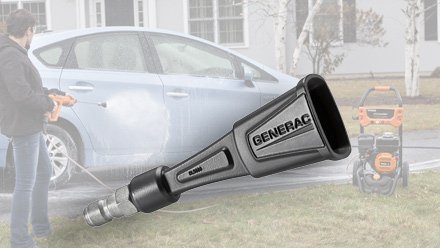 FREE Soap Blaster (normally $14.99)
This handy nozzle shoots soap 3x farther and agitates it into an active foam
Product Summary:
3100 PSI, 2.5 GPM
DR OHV Engine (173cc)
Lithium-Ion battery & charger included
Aluminum Axial Cam Pump
25' UberFlex™ Hose
Power Gun for easy pressure selection
Never flat wheels (10" x 1.75")
FEATURES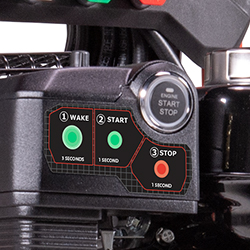 ONE-TOUCH STARTING
Forget the arm-yanking pull starts. Auto choke and a lithium-ion battery (battery and charger included) enable quick, reliable starting with the push of a button.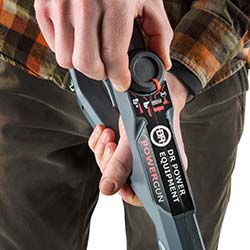 THE POWERGUN
Each of the 4 pressure selection settings is marked with an intuitive pictogram: CAR, for autos and other light cleaning jobs; WOOD, for siding and other surfaces that require intermediate pressure; SIDEWALK, for pavements and other surfaces that can withstand full pressure; and SOAP, for applying detergent.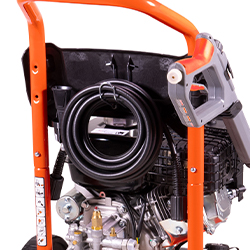 HIGH-PRESSURE FLEX HOSE
Our high-pressure flex hose is soft, pliable, and easy to wrap. No more wrestling with hard, pinching hoses that are almost impossible to coil. Urethane coating is non-marring (so it doesn't leave black marks on the very thing you are trying to clean).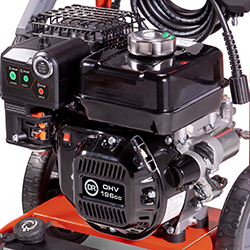 DR® 196cc OHV Engine
Easy-starting (with the push of a button!) OHV engine provides plenty of power to drive the pump at full capacity.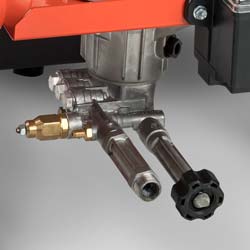 AXIAL CAM PUMP
This high quality, long-lasting pump has extended hose connections for easy access.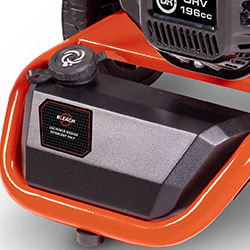 ON-BOARD DETERGENT TANK
Eliminates the need to tote detergent containers around with you as you wash. Holds a half gallon of detergent, more than enough for most cleaning jobs.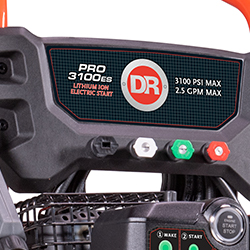 4 SPRAY-PATTERN NOZZLES INCLUDED
4 included nozzle tips (0°, 25°, 40°, Soap) cover every use, from a concentrated beam to deliver maximum PSI and cleaning power (0°), to a wide gentle setting for broadcasting and agitating detergent. .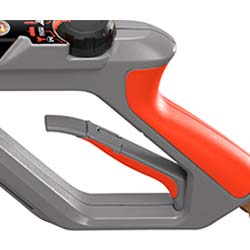 ERGONOMIC INVERTED TRIGGER
An index finger pull trigger and cushioned grip make operation easy, even with extended use. (Most other pressure washers have a trigger design that requires "pinky pressure" to operate—often resulting in hand cramps after just a short time.)
SPECS
DIMENSIONS
Height
35.5 in.
Length
24.4 in.
Shipping Weight
70 lbs.
Weight
51.8 lbs
Shipping Dimensions
24x20x22.5 in.
ENGINE
Displacement
196cc
Engine Type
OHV
Lubrication
Splash
Make
DR
Oil Capacity
20 oz.
Oil Type
SAE30 or 10W30
Starting Type
Electric
Choke/Primer
Manual
FUEL_SYSTEM
Fuel Capacity
3.3 quarts
WHEELS_TIRES
Dimensions
1.75" x 10" Never Flat
Number of Tires
2
WARRANTY
Machine Warranty
3-Year Limited
PRESSUREWASHER_PUMP
Pump Type
Axial Cam
PRESSUREWASHER_PERFORMANCE
Adjustable Pressure
On PowerDial Spray Gun
Chemical Injection
Yes
Water Temperature
Max 100 Degrees F.
GPM
2.5 GPM
PRESSUREWASHER_HOSE_WAND_NOZZLE
Hose Connections
M22 Threaded
Hose Diameter
1/4 in.
Hose Length
25 ft.
Hose Material
Poly
Spray Gun Connection
M22 threaded
Spray Gun Grade
PowerDial
Spray Tips
0 deg, 25 deg, 40 deg, Soap Blaster
Save this product for later